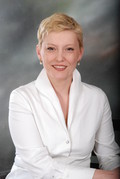 Olivera Jović , President at Udruženje preduzetnika Leskovac
http://www.lepreduzetnik.rs
Bilateral Meetings
30.05.2014 Friday (09:00 am - 12:00 pm)

Association has 3125 members, mainly micro- and small- companies. Our focus in the past five years was on ICT and its usage in business, youth entrepreneurship and women in business development. Our main activities are to:
o Initiate, encourage, help and coordinate activities on providing working and development environment for our members,to engage in building economic relationships and institutions, to develop business cooperation with as many as we can business subjects in country and abroad. The Association cooperates with regional chambers of commerce, local authorities, government organizations and other organizations on local bases, which means that Association :
o Takes part in determining the development policy of its members,
o Takes initiatives on passing the new measures in economic policies and changing the existing ones,
o Follows, studies and instigates making of all kinds of economic bonds in country and abroad.
o Instigates and contributes in providing conditions for engagement of its members in foreign and domestic trade of goods and services and other more complex forms of economic relationships with foreign companies
o Cooperates with financing organizations (banks) on local and wider levels in providing better financing options for ongoing and developing future operation .
- Follows technical and technological achievements which are in its members growth and operations interests, provides information and encourages the implementation
o Works on establishing the database on offerings and demands and other relevant data in interest of its members,
o Cooperates with national employment services on bases of finding the employees based on the wanted profile and financing the reeducation of existing employed workforce.
o Organizes meetings and seminars fir education of its members form various different areas, especially on quality control and management systems.


Country: Serbia
Organization Type: Other
Phone: 0692797196
Email: olivera@itleskovac.rs
City: Leskovac ,Učitelja Josifa 16 Google map
Areas of Activities
End User Segments
Small Companies [3]
Micro Companies [4]
Small Office
Banking, Insurance
Government and Gov. Institutions [5]
Education
Request
IT projects for SME
We want tot develop core IT development center for young entrepreneurs